Dr. Forrest Ringold Performs Surgery for Virtual Audience of 1000+ Surgeons
Here at Surgical Association of Mobile we are blessed to have truly some of the best bariatric robotic surgeons in the US. Dr. Forrest Ringold was recently selected to demonstrate his robotically assisted gastric bypass for surgeons hoping to learn and grow in their own minimally invasive surgery offerings.
During the Intuitive Connect Up Robotics Forum 2021, Dr. Ringold was able to perform a robotic gastric bypass in real-time for a live audience of surgeons across the nation from right here in Mobile, AL at Mobile Infirmary Medical Center. Over 1,200 attendees were able to watch and learn as Dr. Forrest Ringold operated and Dr. Richard DiCicco of Tampa, FL narrated throughout the procedure.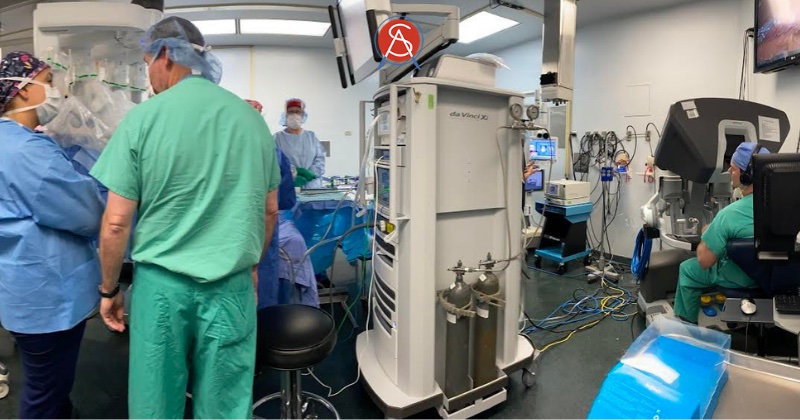 Dr. Ringold is thrilled to provide high caliber care and advanced minimally invasive techniques to his patients in the Mobile Bay community and those who travel to see him for robotic bariatric and general surgery, but it is a special gift to also help other surgeons around the nation to learn and improve the level of care they can provide to their own patients.
If you have experienced robotic surgery firsthand, you know the benefits of surgery with the Da Vinci Robotic surgical system include decrease disruption of the abdomen, smaller incisions, better instrument dexterity, decreased operating time, and decreased surgical risk. Robotic surgery also improves the surgeon's experience, giving them a better view as they work, offering better than human movement and keeping them comfortable.
During robotically assisted surgical procedures, whether bariatric or general surgery, the surgeon is seated in the operating room at a control console. The OR staff and anesthesia providers stand at the side of the patient to assist, and the robotic arms carefully work at the surgeon's command. For this procedure Dr. Ringold's team included Kevin Klocek from Boehringer, Rip Hampton, Sharon Mcgeehee, Shanna Bryars, Cathy Keyser and of course the Da Vinci robot. The motions of the surgical robot are extremely precise and allow the surgeon to work as though they are inside the abdomen with incredible 3D visualization of the operating field and maneuverability.
If you are interested in learning more about robotic surgery, we welcome you to view our robotic surgery page. We are proud to be leaders in robotic surgery, both in Alabama and the nation. To schedule a consultation for a robotic surgery, contact us. If you are interested in exploring bariatric surgery for weight loss and metabolic treatment, the first step is our bariatric surgery seminar, online or in person. '
Thank you to Intuitive, makers of the Da Vinci surgical system for this opportunity.