Testimonials
Kelsi Nix – Gastric Bypass Patient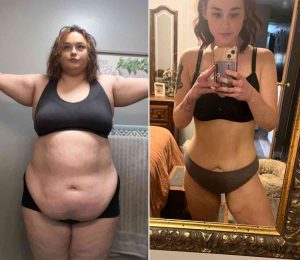 I am 13 months post-op and I'm down 123 pounds! Before considering weight loss surgery I was weighing 263 pounds and I was miserable and had very little energy. Now I'm 140 pounds and I feel better not only physically but mentally. I never thought I'd have this confidence. I've struggled with my weight since I was a teenager and I've tried so many diets and workout plans and nothing seemed to help me, Dr. Ballard told me that he believed the Gastric Sleeve would be a great tool to help me lose weight and he was right! This surgery has taught me how to have a better relationship with food. It's taught me portion control, and healthier choices, but not to deprive myself of the things I enjoy because I can enjoy them in moderation. I hope sharing this helps someone know that there is hope and not to give up on their journey to a healthy lifestyle. I am forever grateful to Dr. Ballard and his team for helping me change my life!
---
Amanda Graham – Roux-en-Y Gastric Bypass Patient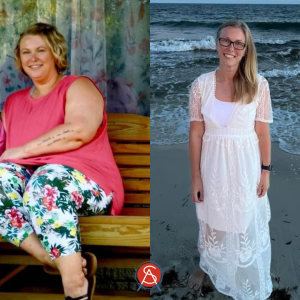 I was in great shape in high school, but after graduating in 2005, I wasn't working out as much and started eating unhealthily. By the time my son was born in 2012, I was up to 230 pounds. I tried dieting and exercising but would always fall short. After my second son was born in 2015, I really amped up my eating. I struggled with postpartum depression and was put on medicine. It was a lot of trial and error in finding a medicine to help, but I kept on eating.
In 2019, my doctor suggested looking into weight loss surgery after we tried a series of weight loss medicines with little or no success. I knew nothing about weight loss surgery, or where to even go, so I started researching it. Later that year we moved to Mobile and took the kids to the beach. We went to a water park where I found out that I could not go down the water slides because the weight limit was 250 lbs. and I was 290 lbs. We went to ride go-carts and I could not fasten the seat belt. It wasn't big enough for me. They had to give me a seat belt extender just so I could drive my son. I was mortified.
When we got back home, I started researching weight loss surgery again and that's where I found your office. I attended a seminar where Dr. Barry Ballard was the speaker and felt immediately at peace with what he had to say. So, I set up an appointment with him and then started the hoop-jumping for the qualifications of my health insurance. By the time my qualifications had been met, and insurance approval was received, I weighed 329 lbs. I had Roux-en-Y Gastric Bypass on August 16, 2020.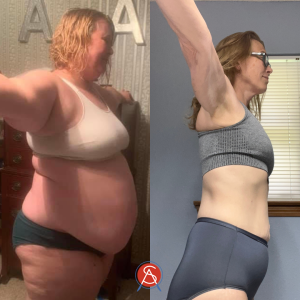 My surgery experience was awesome. Literally. I woke from surgery, was moved into my room, and felt as though I hadn't even had a procedure done. I remember calling my husband, COVID was in place so he wasn't able to be with me during my stay, asking him if I had the bypass performed because I couldn't tell any difference other than seeing the bandages from my incisions. Dr. Ballard came by to check on me and confirmed he did do the surgery, lol. My nurse had talked to me about walking to get the gas to move. She said the goal was to work up to 4 laps by the time I was discharged two days later. I walked the 4 laps that same night. I felt great.
The next day, they brought me these tiny medicine cups and explained how to drink from them. However, I drank the first cup too fast and immediately threw it up. That's when it finally hit me. Even though I didn't feel like I had surgery, I clearly did have surgery. Everything shifted into perspective.
People talk about how hard the liquid phase was after the surgery, and indeed it was mentally hard! My brain said I was hungry, but a sip of water made me feel full. When transitioning to food, I had to re-learn how to eat: what foods to eat, how to eat slowly, and not to drink while I was eating. It was hard, but so, so, so, worth it.
Fast forward to 2022, and we took our kids on vacation back to the same place we had gone in 2019. I was able to go down the water slides. When we went to ride go-carts, not only did I not need the extender, but I had to tighten the straps because they were too big. Seeing the smiles and hearing the laughter from my kids getting to be alongside me makes me so glad that I had this surgery and put in all the work.
It has been 2 years since I had my surgery. I am 5 ft. 9 in. and weigh 153 lbs. I cannot thank you, Dr. Ballard, and Dr. Coby Harrison, my PCP, enough for the amazing care you have provided me during this time. My advice for anyone that is at the end of their rope and considering weight loss surgery, is to DO IT! Put in the work, and make sure you're staying hydrated, taking your vitamins, eating healthy, and working out. The outcome is worth it!!
---
Carol – Gastric Bypass Patient
Our patient, Carol, had a gastric bypass with Dr. Forrest Ringold about 2 ½ years ago. She has maintained 100 pounds of weight loss. While she looks and feels better, her most significant achievement has been reducing or eliminating the many diseases and conditions caused by her excess weight. Her husband Gary comments that they now only visit the hospital for true emergencies.
The gastric bypass is a combination of restrictive and malabsorptive procedure that has been performed for several decades. Bypass surgery has never been as minimally invasive, safe, and effective as it is today. The ideal gastric bypass patient has a moderate to high BMI – over 45 – and may be suffering from poorly controlled type two diabetes or acid reflux.
---
Ericka – Roux-en-Y Gastric Bypass Patient
---
Linney Eley – Gastric Sleeve Patient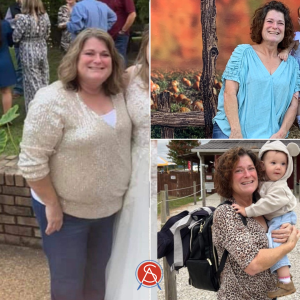 When I look at the before pictures all I want to do is cry. I can't believe I let myself get that way. I never thought I looked like that. My mirrors didn't show what my health did; my type two diabetes got as high as 12, I had cholesterol problems, and within the last year, I started having some blood pressure issues. I drank 12-bottles, of 20-ounce, Diet Coke a day and ate a lot of bread. I never thought of myself, and finally, I did something for myself. I wanted to live and be a grandma. I went to see Dr. Ballard and his personality was awesome. He made sure to tell me everything I needed to know, reassured me I was going to find myself again, and that my health was going to turn around. And on March 17, 2021, it did!
I've never looked back and it was the best decision I ever made! I watched the number on the scale drop and my health started to get better; I was sleeping better, hardly taking any medicine, and my joints didn't even hurt as much. I love having people tell me how great I look. My children are my biggest cheerleaders. Just remember, it's not an easy journey. It's a lifestyle change, but it is so worth it. I still get to eat the foods that I like, but just in smaller portions. I no longer drink soda or eat bread, and I don't even want it or crave it. Surgery saved me! Go see Dr. Ballard and his office. They are wonderful! This has been the best decision I've ever made!
---

Toshika and Yolanda
BFF Weight Loss Surgery!
"Dr. Ringold is my hero…he changed my life with the duodenal switch!!! I am a new woman and finally enjoying my life."  XOXOXO, Toshika
"Dr Ringold is an awesome doctor. He listens to his patients and provides them with the best care possible. I am enjoying my life after surgery. It has been the best decision of my life. Thanks Dr Ringold." – Yolanda
Together these BFFs have lost 377 lbs!
Toshika (patient on left) had a DS on 10/27/20. Her start weight was 434 lbs and her BMI was 70. Her current weight is 190 lbs and her BMI is now 33.
Yolanda (patient on right) had gastric bypass done on 2/2/20. Her start weight was 378 lbs and her BMI was 58.3.  Her current weight is 245 lbs and her BMI is now 40.
---
Gary  – Gastric Bypass Surgery Patient
"Dr. Smith saved my life"
Gary has lost a total of 109 lbs!
My name is Gary and this is my story. Five years ago my weight had become a serious problem. Both of my big toes were starting to lose their feeling. I knew something was wrong. I went to the doctors and found out that I was a diabetic. My blood sugar was 850. I could have been in a coma. At that point I tried to lose weight and get my sugar under control. It was very difficult to lose weight. After months of trying to lose weight I decided to go see surgical associates of mobile. I attended a little seminar about weight loss provided by surgical associates. Dr Dusty Smith was the person giving the seminar. I really didn't know what to expect or think. I know that I needed help and during the session I knew that I was making the right choice. I have never felt so relaxed about a situation like the one that I was facing. Dr Smith made me feel like a real person and she was so caring about everyone and their reasons for being there. I told her that I was going to get weight loss surgery and I wanted her as my doctor. I was a type 2 diabetic and my classification was morbidly obese. My waist size was 44 and I was wearing a 3x shirt. One of the biggest things that I have and always will remember is Dr Smith telling me that when you start losing weight and start feeling good about yourself the rest will take care of itself. She was right. My life has changed dramatically. I get a lot of compliments from people. Dr Smith saved my life. She is very kind, professional, and cares about people. It has been very easy for me to retain my current weight. If you are looking to change your life for the better and you don't think that it is possible, Think again. I did it, and you can too!
---
David – Gastric Bypass Surgery Patient
"I had the duodenal switch about 9 months ago and have lost a total of 211 lbs and counting"
David's pre-surgery weight was 430 lbs and his current weight is 219 lbs!
---
Murriah – Gastric Bypass Surgery Patient
"I would do it again in a heart beat."
Murriah has lost a total of 104 lbs!
I am 38 years old and I tried to lose weight for years and did every diet known to the world. I would yo-yo back and forth the same 30 lbs and then it would come back with friends. I had family members that had gastric bypass and had done very well. I went to a seminar and spoke with Dr. Weinstein and he agreed it would be a great option for me.
I made up my mind that day and called my insurance company to find out their requirements. I did 6 months worth of doctor supervised dieting and then on 11/1/2018 I had my surgery. I was 248 lbs at my highest weight and 233 lbs the day of surgery. I am now 144 lbs and I feel amazing. I am healthier, more social and would do it again in a heart beat.
---
Sarah – Gastric Bypass Surgery Patient
"Gastric Bypass Surgery was the best thing I have ever done!"
Sarah has lost a total of 49 lbs!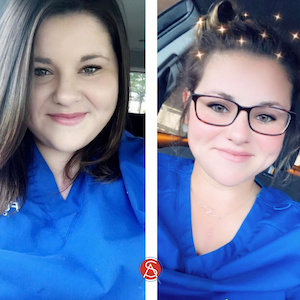 I have had diabetes all my life and I was recently diagnosed with kidney failure.  I knew I had to do something, so I decided to get gastric bypass surgery!  It was the best thing I have ever done and would do it again! I am now off most of my medications and feel greater than I ever have! Dr. Hannon is definitely the best! Almost 50 lbs down.
---
Jessica – Gastric Sleeve Surgery Patient
"Gastric Sleeve surgery changed my life!"
Jessica has lost a total 163 lbs!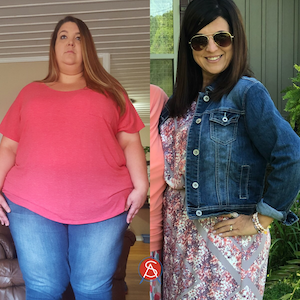 I have been struggling my whole life with my weight. I have two kids and failed at EVERY diet I tried. I was an emotional eater, when I was happy, I would eat, when I was sad, I would eat, when I was excited, I would eat. My life was surrounded around eating.
I realized that I was teaching my girls this horrible eating pattern and I knew I had to change. I went and seen Dr. Hannon and made up my mind that enough was enough. In 2017 I had my gastric sleeve surgery and it changed my life! I thank God I got a second chance!!!!
---
Laddie – Gastric Bypass Surgery Patient
"I am so thankful for having Gastric Bypass surgery."
Laddie went from 288 lbs to 172 lbs!!
11 years ago I was on three blood pressure pills, depression medication, and very over weight. I made up my mind to make life style changes so I lost 151 lbs and kept it off for years until last year when I went from 137 lbs to 170 lbs.  There was reason, I had a sugar problem that I didn't know about. I now have it under control but it does run in my family.
Dr Hannon and Ann Purvis were very good to me.  I live in NC now but stay connected with weight loss support groups and see my weight loss doctor here. I am thankful I have changed my life. I don't think about food all the time and after 11 years I'm very happy living an active life even with my health issues.
---
Priscilla – Gastric Sleeve Surgery Patient
"My surgery gave me my life back!"
Priscilla lost a total of 115 lbs!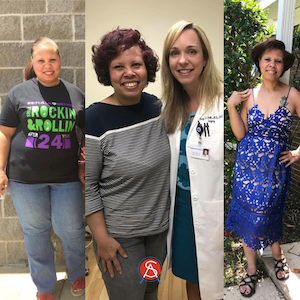 I was in so much pain from herniated disc, migraines, rheumatoid arthritis, a meningioma of the olfactory groove, and high blood pressure. I wasn't living but existing. Most of my days were spent isolated in the house and in bed. I was in too much pain to do anything else. I couldn't stand log enough to clean house or cook for my family without being in excruciating pain. Going shopping for groceries was a task in itself. I had no plans of having weight loss surgery. My husband decided that he wanted to do it. I went to the seminar with him just to be supportive of his decision. I was so impressed with what I heard, that I went home and decided that I wanted to have weight loss surgery as well. I prayed about it and gave my decision completely to God.
It took me two weeks to fully make up my mind. I called back into the office to start the process. It literally took 2 months to complete all my requirements for surgery. I received my surgery date and on October 7, 2016 I had my sleeve surgery. I was taken off my blood pressure medicine the day of surgery. That was a Thursday morning and by Friday evening I was completely off pain medicine. I went home with a prescription but didn't have to use it. I was released from the hospital on Saturday and on Sunday my sister and I went to the movies. Before surgery I was living to exist, but after surgery I existed to live.
This journey came with great benefits for me. I am pain free, I no longer have pain associated with herniated disc, rheumatoid arthritis, and migraines. This surgery has offered me to live life to the fullest at 48 years old. Dr. Dusty Smith saved my life!  I didn't have any complications and this process was as perfect as it could get. I still would like to lose 10-20 lbs. I will be celebrating my 2 year surgiversary on October 7, 2018. It's going to be a celebration! I hope my story will encourage somebody who's experiencing pain in their body. I know it gave me my life back!
---
Amy – Gastric Bypass Surgery Patient
"16 and 17 years out and still going strong!"
Amy and her husband together have lost 455 lbs!!

My husband decided to have the Roux-En-Y 18 months after mine. His presurgery weight was 440 and he is now 165. He was on blood pressure medications that were gone within 6 months of his surgery. My biggest piece of advice….DON'T EAT OR DRINK SUGAR. It will be your biggest enemy. 17 years after gastric bypass and I have yet to drink a single sugared drink. The same goes for my husband 16 years out. We now live in Kentucky and have moved out of the Mobile area, but keep our gratitude to Dr. Weinstein in our hearts all of the time. Thank you Dr. Weinstein for saving our lives!!!
Meet Amy's Chosen Surgeon & Explore Amy's Surgical Procedure
---
Alicia – Gastric Sleeve Surgery Patient
"It was literally life changing."
Alicia has lost 150 lbs. and counting!! 
I heard about the sleeve surgery from a close friend and decided to look into it. I did the research. Took the seminars. Found people who had had it done and was told how much it changed their lives. I was convinced. This is what could be my lifesaver. I could do the things i wanted to do and be here for my kids. Having my dad pass away at just 2 I knew how hard it is on a child to not have a parent. So I did it. I started the appts and had all the tests run and had my surgery. It was one of the scariest but best decisions I've ever made for myself. It was literally life changing.
From lifestyle choices to diets to how my work life and personal life even improved. Im able to ride all the rides and wear that bathing suit and go swimming. I can climb around the forts and play ground equipment and not be too big or too hot or out of breath. In just the first 11 months i lost half of my body weight. I went from a size 28 to a 10. It is amazing how good I feel. It is hard at times. But worth every single one of the bad days. Which dont get me wrong, there are bad days. Nausea happens. The days when no food sits right. Your hair does fall out and get thin. In the beginning you may be tired than normal. But those are few and far between. I was asked to do a news interviews with Dr. Ringold at 11 months. To talk about the good and the bad.
I was so proud to show off my success and hope that it will help someone else make this positive lifestyle change for themselves. I want to inspire someone and give someone hope and knowledge that you can be a healthier you. Sometimes it just takes some help.
I am now 2 years out and still have no regrets. I was asked to be photographed for the Surgical Associations new ad and gladly accepted. I hope one day my story motivates someone to ask those questions they might have been too scared to ask or did not know to ask and make a positive change for themselves and their family as well.
Meet Alicia's Chosen Surgeon & Explore Alicia's Surgical Procedure
---
Raina – Gastric Sleeve Surgery Patient
---
Kelsey – Gallbladder Surgery Patient
Meet Kelsey's Chosen Surgeon & Explore Kelsey's Surgical Procedure
---
Dana – Gastric Bypass Surgery Patient
---
Ginni – Gastric Bypass Surgery Patient
"My life has changed a hundred times for the better!"
Ginni has lost 118 lbs. and counting!!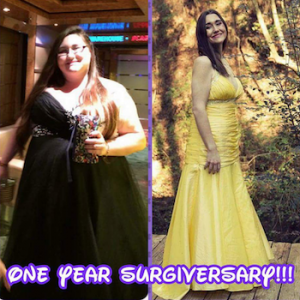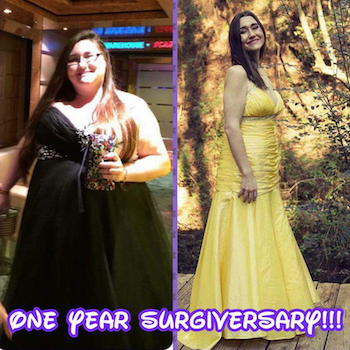 I chose to have weight loss surgery when I reached my highest weight at 297 lb. I had health concerns such as diabetes, back pain, knee pain and I was always tired. So after a couple of years of not feeling good, I was tired of my back hurting and was recently diagnosed as being pre-diabetic, I decided it was time to make a change.
A friend of mine told me about gastric bypass and I had already thought about it, but I really didn't have that push to do it just yet. But one day it hit me I need to make a change now! I wanted to do more. I wanted to be able to live a full life, participate in family activities such as bike riding sports, etc. I want to be able to go upstairs without being winded. I didn't want to be in chronic pain when I got older due to weight related issues. I just wanted more for my future.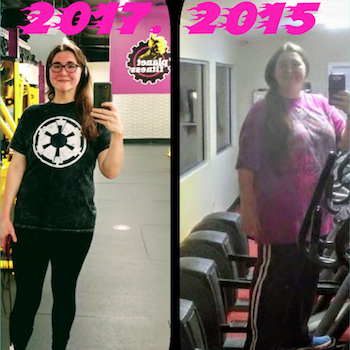 So one day I just decided to go to a weight loss seminar at Mobile Infirmary and I listened to Dr. Hannons' seminar and watched the Powerpoints and I even talked to him for a few minutes afterwards and from that point I knew this was for me. I felt like I was listened to that he truly cared that his group would care for me! I then called and made an appointment and I met with Dr. Dusty Smith and she was just absolutely amazing. Just as with Dr. Hannon I felt listened to, I felt like she cared about my future and what was best for me. She answered every question I had. The staff that works with her also helped me out with any questions. They helped me with every step I needed to do to make my dream a reality! Once at all the paperwork and everything was taken care of and insurance was taken care of everything sped up from there. I submitted my paperwork and scheduled surgery.
I feel like my surgery went extremely well. I had very little post-op pain not any more than I would expect. I went home. I came back for check-ups everything was wonderful! I feel like the surgery really helped me with so much. I have more confidence in myself I have the self esteem i never had before. I want to do more, I want to exercise, I want to be healthy. I can do so much more than I could before surgery my life has changed a hundred times for the better! If I had it to do all over again I would totally do it it was the best decision I made for me! Thank you so much Surgical Association of Mobile!
Meet Ginni's Chosen Surgeon & Explore Ginni's Surgical Procedure
---
Wendy – Weight Loss Surgery Patient
"I feel better at 52 than I did at 22"
Wendy has lost 103 lbs. and counting!!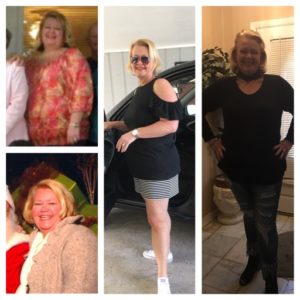 I have been overweight all of my life. I was approaching my 50th Birthday and I was determined that I was not going to be this big for the rest of my life. I saw Dr. Weinstein for a different problem and we discussed weight loss surgery. After numerous tests he said I was a perfect candidate. I never had a doubt that this was what I wanted to do, so when I got the approval from my insurance company, there was no stopping me. We set the date, I had the surgery, and it was the best decision I could have made. I lost a total of 100lbs. I no longer crave the foods that I use to. I work on the 4th floor at my job and I use the stairs everyday. I feel better at 52 than I did at 22. If you are thinking about surgery, don't hesitate, you will not regret it!!!
Meet Wendy's Chosen Surgeon & Explore Wendy's Surgical Procedure
---
Theresa – Gastric Bypass Surgery Patient
"I haven't looked back"
Theresa has lost 118 lbs. and counting!!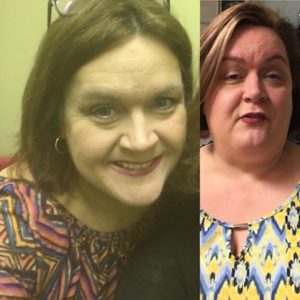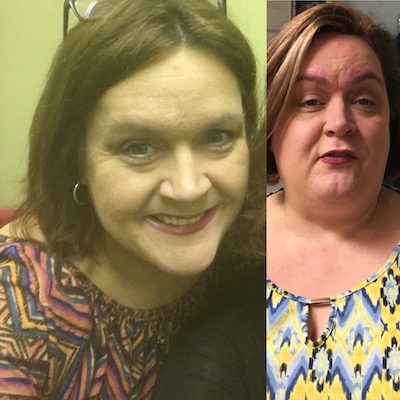 I have struggled with my weight for most of my life. I decided one day to go see Dr. Lane! I had to attend a seminar. I got Caroline to get my surgery approved. I haven't looked back. I had my surgery on 03/06/17 and I feel great. I have a great support system.
I could not have asked for a better doctor and the whole staff is awesome from the front desk, the medical assistants, Caroline, Jill, and Dr. Lane.
I have recommended several people to him. I love my new tool.
Meet Theresa's Chosen Surgeon & Explore Theresa's Surgical Procedure
---
Stephanie – Gastric Sleeve Surgery Patient
"I would do it again"
Stephanie has lost 111 lbs. and counting!!
My brother was my motivation to get this done to. He had his done about 2 years before mine. I had the Gastric Sleeve on Feb. 10, 2017. Dr. Forrest Ringold is my Dr. My insurance wouldn't pay for it so we had to pay out of pocket and I would do it again to.
Back in mid October I decided to get back into Taekwondo again. I'll be aiming for my Junior Black Belt later on this year. Without this surgery I don't think I can do a lot of the kicks, stretches etc without the surgery.
Meet Stephanie's Chosen Surgeon & Explore Stephanie's Surgical Procedure
---
Send Us Your Story!
We would love to hear your story.
To submit your testimonial and photos, please click here.
Thank you!