Testimonials
Amy – Gastric Bypass Surgery Patient
"16 and 17 years out and still going strong!"
Amy and her husband together have lost 455 lbs!!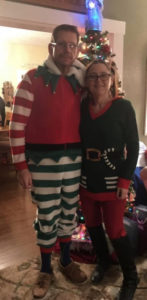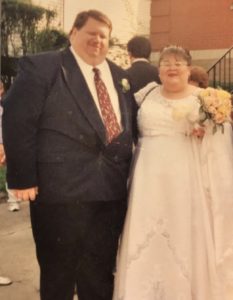 I don't think I realized just how bad I felt until the weight started dropping off. I hated the "when are you due?" comments, being unable to reach the gas pedal on my car and the frustration of not being able to get pregnant. Three years after my bypass I finally got pregnant and in Feb 2006 I gave birth to a sweet baby boy. I remember Dr. Weinstein grabbing me and having me talk to prospective candidates during my follow ups because  he felt I was doing so well.
My husband decided to have the Roux-En-Y 18 months after mine. His presurgery weight was 440 and he is now 165. He was on blood pressure medications that were gone within 6 months of his surgery. My biggest piece of advice….DON'T EAT OR DRINK SUGAR. It will be your biggest enemy. 17 years after gastric bypass and I have yet to drink a single sugared drink. The same goes for my husband 16 years out. We now live in Kentucky and have moved out of the Mobile area, but keep our gratitude to Dr. Weinstein in our hearts all of the time. Thank you Dr. Weinstein for saving our lives!!!
Meet Amy's Chosen Surgeon & Explore Amy's Surgical Procedure
---
Alicia – Gastric Sleeve Surgery Patient
"It was literally life changing."
Alicia has lost 150 lbs. and counting!!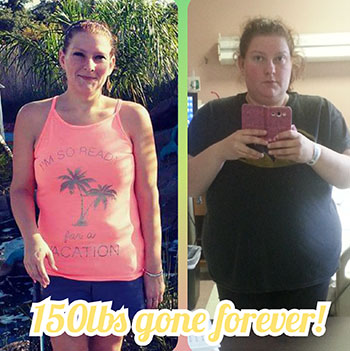 I realized I had to do something. Something for my health. Something so I could be around for my children. To watch them grow and learn and become the strong people they were meant to be. I could not do that with the way I was living. I was tired and overweight. With 3 previous knee surgeries my legs were always in pain from my weight. I was embarrassed to take my kids swimming and get in with them. I was embarrassed when I could fit on rides at the amusement park with them. It was time for a change.
I heard about the sleeve surgery from a close friend and decided to look into it. I did the research. Took the seminars. Found people who had had it done and was told how much it changed their lives. I was convinced. This is what could be my lifesaver. I could do the things i wanted to do and be here for my kids. Having my dad pass away at just 2 I knew how hard it is on a child to not have a parent. So I did it. I started the appts and had all the tests run and had my surgery. It was one of the scariest but best decisions I've ever made for myself. It was literally life changing.
From lifestyle choices to diets to how my work life and personal life even improved. Im able to ride all the rides and wear that bathing suit and go swimming. I can climb around the forts and play ground equipment and not be too big or too hot or out of breath. In just the first 11 months i lost half of my body weight. I went from a size 28 to a 10. It is amazing how good I feel. It is hard at times. But worth every single one of the bad days. Which dont get me wrong, there are bad days. Nausea happens. The days when no food sits right. Your hair does fall out and get thin. In the beginning you may be tired than normal. But those are few and far between. I was asked to do a news interviews with Dr. Ringold at 11 months. To talk about the good and the bad.
I was so proud to show off my success and hope that it will help someone else make this positive lifestyle change for themselves. I want to inspire someone and give someone hope and knowledge that you can be a healthier you. Sometimes it just takes some help.
I am now 2 years out and still have no regrets. I was asked to be photographed for the Surgical Associations new ad and gladly accepted. I hope one day my story motivates someone to ask those questions they might have been too scared to ask or did not know to ask and make a positive change for themselves and their family as well.
Meet Alicia's Chosen Surgeon & Explore Alicia's Surgical Procedure
---
Raina – Gastric Sleeve Surgery Patient
---
Kelsey – Gallbladder Surgery Patient
Meet Kelsey's Chosen Surgeon & Explore Kelsey's Surgical Procedure
---
Dana – Gastric Bypass Surgery Patient
---
Ginni – Gastric Bypass Surgery Patient
"My life has changed a hundred times for the better!"
Ginni has lost 118 lbs. and counting!!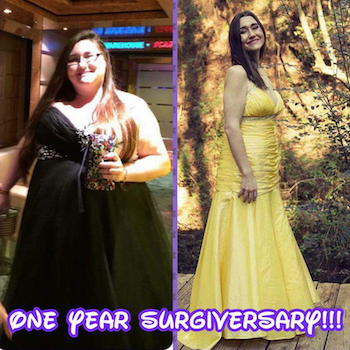 I chose to have weight loss surgery when I reached my highest weight at 297 lb. I had health concerns such as diabetes, back pain, knee pain and I was always tired. So after a couple of years of not feeling good, I was tired of my back hurting and was recently diagnosed as being pre-diabetic, I decided it was time to make a change.
A friend of mine told me about gastric bypass and I had already thought about it, but I really didn't have that push to do it just yet. But one day it hit me I need to make a change now! I wanted to do more. I wanted to be able to live a full life, participate in family activities such as bike riding sports, etc. I want to be able to go upstairs without being winded. I didn't want to be in chronic pain when I got older due to weight related issues. I just wanted more for my future.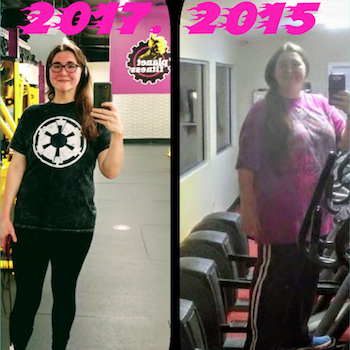 So one day I just decided to go to a weight loss seminar at Mobile Infirmary and I listened to Dr. Hannons' seminar and watched the Powerpoints and I even talked to him for a few minutes afterwards and from that point I knew this was for me. I felt like I was listened to that he truly cared that his group would care for me! I then called and made an appointment and I met with Dr. Dusty Smith and she was just absolutely amazing. Just as with Dr. Hannon I felt listened to, I felt like she cared about my future and what was best for me. She answered every question I had. The staff that works with her also helped me out with any questions. They helped me with every step I needed to do to make my dream a reality! Once at all the paperwork and everything was taken care of and insurance was taken care of everything sped up from there. I submitted my paperwork and scheduled surgery.
I feel like my surgery went extremely well. I had very little post-op pain not any more than I would expect. I went home. I came back for check-ups everything was wonderful! I feel like the surgery really helped me with so much. I have more confidence in myself I have the self esteem i never had before. I want to do more, I want to exercise, I want to be healthy. I can do so much more than I could before surgery my life has changed a hundred times for the better! If I had it to do all over again I would totally do it it was the best decision I made for me! Thank you so much Surgical Association of Mobile!
Meet Ginni's Chosen Surgeon & Explore Ginni's Surgical Procedure
---
Wendy – Weight Loss Surgery Patient
"I feel better at 52 than I did at 22"
Wendy has lost 103 lbs. and counting!!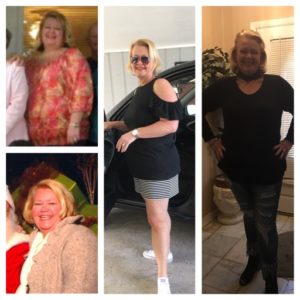 I have been overweight all of my life. I was approaching my 50th Birthday and I was determined that I was not going to be this big for the rest of my life. I saw Dr. Weinstein for a different problem and we discussed weight loss surgery. After numerous tests he said I was a perfect candidate. I never had a doubt that this was what I wanted to do, so when I got the approval from my insurance company, there was no stopping me. We set the date, I had the surgery, and it was the best decision I could have made. I lost a total of 100lbs. I no longer crave the foods that I use to. I work on the 4th floor at my job and I use the stairs everyday. I feel better at 52 than I did at 22. If you are thinking about surgery, don't hesitate, you will not regret it!!!
Meet Wendy's Chosen Surgeon & Explore Wendy's Surgical Procedure
---
Theresa – Gastric Bypass Surgery Patient
"I haven't looked back"
Theresa has lost 118 lbs. and counting!!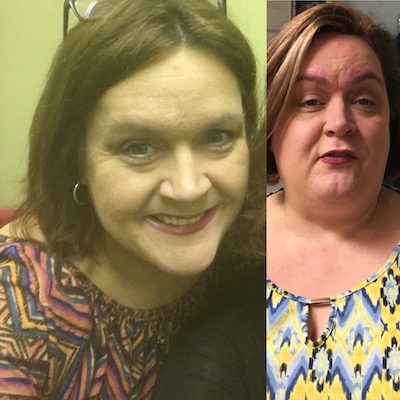 I have struggled with my weight for most of my life. I decided one day to go see Dr. Lane! I had to attend a seminar. I got Caroline to get my surgery approved. I haven't looked back. I had my surgery on 03/06/17 and I feel great. I have a great support system.
I could not have asked for a better doctor and the whole staff is awesome from the front desk, the medical assistants, Caroline, Jill, and Dr. Lane. I have recommended several people to him.
I love my new tool.
Meet Theresa's Chosen Surgeon & Explore Theresa's Surgical Procedure
---
Stephanie – Gastric Sleeve Surgery Patient
"I would do it again"
Stephanie has lost 111 lbs. and counting!!
My brother was my motivation to get this done to. He had his done about 2 years before mine. I had the Gastric Sleeve on Feb. 10, 2017. Dr. Forrest Ringold is my Dr. My insurance wouldn't pay for it so we had to pay out of pocket and I would do it again to.
Back in mid October I decided to get back into Taekwondo again. I'll be aiming for my Junior Black Belt later on this year. Without this surgery I don't think I can do a lot of the kicks, stretches etc without the surgery.
Meet Stephanie's Chosen Surgeon & Explore Stephanie's Surgical Procedure
---
Send Us Your Story!
We would love to hear your story.
To submit your testimonial and photos, please click here.
Thank you!