Bariatric Surgery Epicenter


Dr. Forrest Ringold, in conjunction with Surgical Association of Mobile and Infirmary Health were designated a Bariatric Surgery Epicenter by the global leader in robotic surgery, Intuitive Surgical, Inc., makers of the DaVinci® Robotic Surgical System. This designation is particularly special as we were named as one of the first four epicenters worldwide. Dr. Ringold and our facilities were chosen as a result of a dedication to advancement, surgical volume and exceptional outcomes.
The concept of a bariatric epicenter is to showcase programs by which other robotic surgical practices can be modeled. The epicenter allows surgeons from all over the United States and the world observe best in class surgical technology, robotic technique, safety, nursing care, cost control and practice efficiency. Dr. Ringold serves as a proctor or trainer to other doctors looking to further sharpen their skills and gain valuable knowledge and insight into novel robotic techniques and practice management
To date we have hosted surgeons and clinicians from:
– Alabama
– Florida
– Georgia
– South Carolina
– Tennessee
– New York
– And internationally, from Belgium and elsewhere
The First SynchroSeal Procedure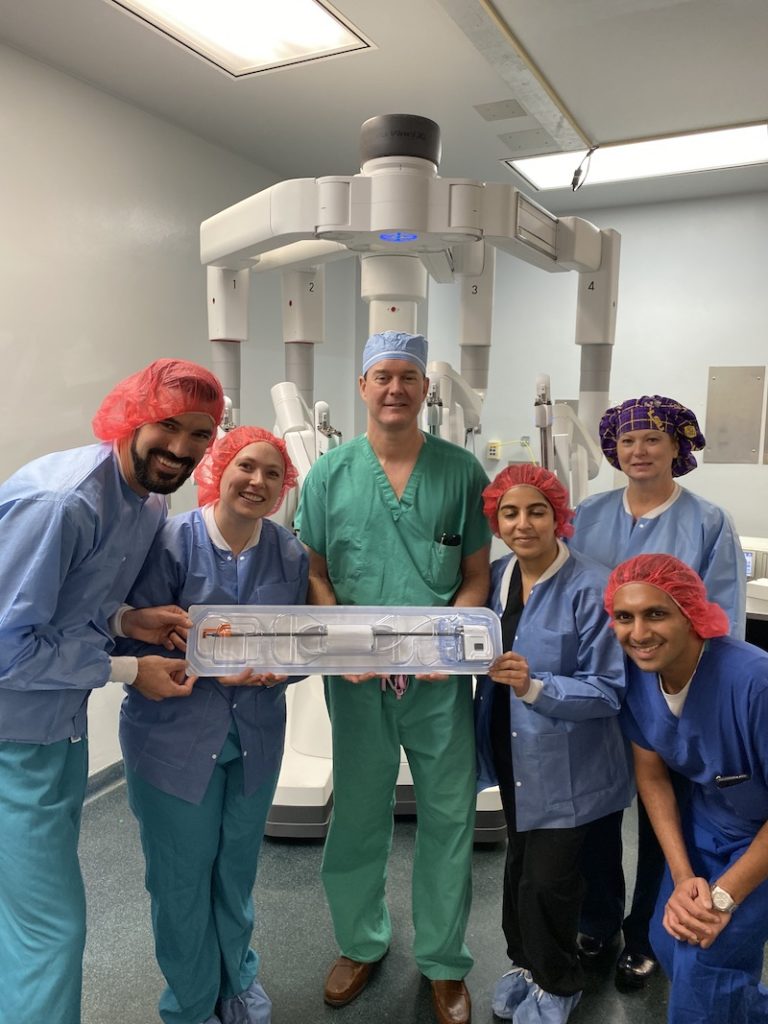 In early December 2019, Dr. Ringold became the first surgeon worldwide to use Intuitive Surgical's new SynchroSeal device, having been approved by the FDA only a few days earlier. The Synchroseal device is the first of its kind, being able to cut tissue and cauterize blood vessels simultaneously while docking seamlessly with the DaVinci robotic surgical platform. Dr. Ringold's dedication to advanced laparoscopic techniques and progressive technology made him the prime candidate for this honor.
Learn more about Dr. Ringold's first SynchroSeal surgery
National Training & Speaking Engagements
As part of our designation as a robotic bariatric surgery epicenter, Dr. Ringold has participated in dozens of national training events and speaking engagements. Hundreds of surgeons from around the country and the world have attended meetings and webinars to learn more about our program.
To learn more about our robotic surgery program, we encourage you to contact us.