Welcome to the Official SAMPA Blog
March 19, 2019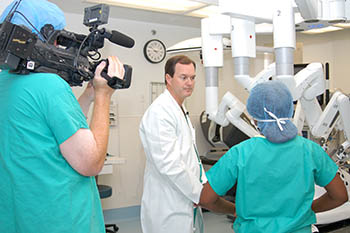 We are very proud to announce that Dr. Forrest Ringold and Surgical Association of Mobile, in partnership with Mobile Infirmary Medical Center, have been chosen by Intuitive Surgical, the leader in Robotic Bariatric and General Surgery Solutions, to be an Epicenter for Robotic Bariatric Surgery.  While many hospitals around the country have invested in robotic technology, Dr. Ringold and Surgical Association of Mobile have been leaders in the deployment the new technology both in General and Bariatric surgery.  Our practice is one of the first in the Southeast to make wide-scale use of the Robotic Platform, known as the da Vinci Surgical System, for weight loss and other general surgeries.
March 15, 2019
A clinical study published in early 20191 followed patients with continued moderate-to-severe regurgitation after single dose omeprazole – A common PPI (Proton Pump Inhibitor) for stomach acid. Some patients were assigned to a group that underwent a procedure to implant the LINX magnetic sphincter augmentation device while others were given a second daily dose of PPI inhibitor. Subjects were followed for five years to see how each intervention affected their symptoms.
February 25, 2019
As if making healthy eating choices wasn't challenging enough, here we are facing maybe one of our greatest nutritional epidemics – weaning ourselves off the incredible amount of hidden, and not-so-hidden, sugars in our modern diets. This is not about the table sugar that we swirl into our coffee or the obviously sugary doughnuts we avoid in the office breakroom. Our addiction to, and failure to conquer, sugar goes beyond the obvious. Continue reading →
February 10, 2019
Eyes are the windows to the soul, and keeping your body healthy helps to keep those windows operating smoothly! If you are obese you may be more concerned about your heart health than your vision, but the risks for diabetic eye diseases, including glaucoma, are increased by obesity.
What is Glaucoma?
Glaucoma is a general word for a group of eye diseases that lead to irreversible damage of the optic nerve, which connects your eye to your brain and can cause total blindness if left untreated. Slow vision loss is usually the only symptom and since the condition can't be cured, it's important to be aware of your risk factors and see an ophthalmologist regularly. These risk factors can include:
January 30, 2019
Already a few weeks into 2019, many of us have already found difficulty sticking to our New Year's resolution. And as much as we hate to admit it, this isn't our first resolution tango. While setting goals are always encouraged as an integral part on the roadmap to success, sometimes breaking down lofty accomplishments into small, unintimidating parts yields the biggest results. For example, everyone's favorite resolution of losing "X lbs" gets swept up in the commotion of this year's hot diet fad, new gym memberships, and even new yoga pants to spark your success. New yoga pants are always great, but we need to accept that life is busy and complicated, and as much as magic pants are welcome, we really need to restructure our thinking. How about instead of "losing X pounds," we create tangible and "doable" tasks will accelerate our journey toward resolution domination. So, to start, let's focus on different numbers:
August 8, 2018
One of the hardest parts of post bariatric surgery life is sticking to your diet and exercise regimen while traveling. Many post-op professionals and avid vacationers must develop habits of eating well when tempted by new and exciting restaurants and exercising even though it is much easier to end the day by jumping into bed and watching some TV.
July 26, 2018
Many post-bariatric surgery patients suffer from a distorted view of their body, which can, in turn, cause serious psychological difficulties after surgery. Body image issues cannot be corrected immediately, to be sure. After all, obesity didn't occur overnight, and the effects of obesity will not disappear quickly either. However, it is important patients begin to address their body image and expectations immediately after surgery – ideally even before surgery.
July 15, 2018
Bariatric surgery is primarily a disease improvement and resolution procedure. In other words, weight loss is simply a secondary benefit. So, it is very important the decision to undergo bariatric surgery be predicated upon a patient's unique medical circumstance, including the obesity related diseases from which they suffer. This is particularly important for those experiencing significant symptoms or advanced forms of certain diseases.
June 28, 2018
Modern surgery has benefited from the advent and refinement of the laparoscopic or minimally invasive approach. Minimally invasive procedures offer several benefits including less pain, less blood loss, smaller scars, a shorter hospital stay and a quicker recovery. As a result, most of the bariatric and general surgery procedures we perform are minimally invasive and/or robotically assisted. There are times, however, when open surgery is more appropriate for a patient's circumstance. These reasons can include:
November 14, 2017
Today, we sit down with Dr. Jeffrey Hannon to discuss some frequently asked questions about Gastroesophageal Reflux Disease or GERD, also known as chronic acid reflux and heartburn.
Q: Why Does GERD Occur?
Dr. Hannon: Typically, chronic acid reflux or GERD is caused by a weakened Lower Esophageal Sphincter or LES, the valve that separates the esophagus from the stomach and prevents stomach acid from flowing back.
There are several reasons why these muscles could be weak and anything that puts strain on the abdomen, such as obesity or pregnancy, can exacerbate acid reflux.
Some patients may have a hiatal or paraesophageal hernia that contributes to acid reflux.
Lastly, acid reflux may be caused by certain procedures. A Heller Myotomy for the treatment of achalasia, the gastric band and the gastric sleeve may all cause or worsen GERD in some patients.
← Older posts