SAMPA's Weight Loss Surgeons are 2021 Nappies Finalists!
We are thrilled for another year are being nominated as finalists in the Lagniappe Nappies Awards. As reigning champions in the Weight Loss Docs – Surgical category, we need your votes to stay on top for another year. Click here to vote for our doctors daily.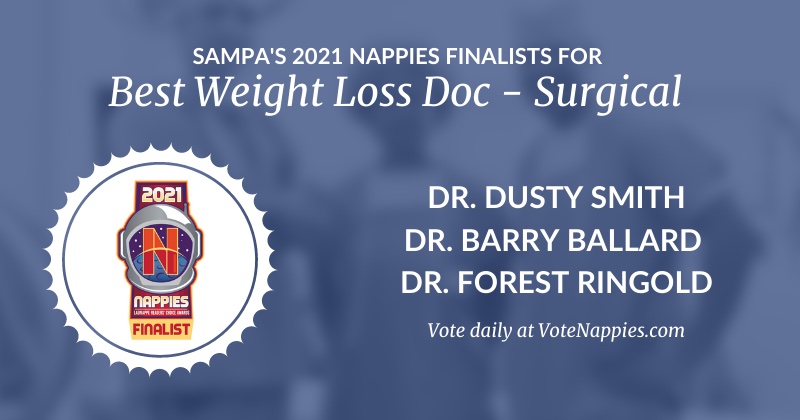 This year our Nappies Finalists include Dr. Dusty Smith, Dr. Barry Ballard, and Dr. Forrest Ringold.
We are so grateful for the support and trust of our community here in the Mobile Bay area and are blessed to be recognized for the hard work and dedication we give to our patients each day. Thank you for choosing our team and trusting us with your care.
As always, we appreciate the friends and family you have referred to us over the years. It is truly the most flattering complement to meet a patient referred by another of our patients.
Already voted your daily vote and want to continue to support our practice? Share a review about your experience with Surgical Association of Mobile. Your reviews help other patients seeking the services we offer to make the best selection.
Click Here to Review Our Doctors
Our team is honored to serve you and cheer you on as you reach your health goals. We appreciate you being our cheerleaders too!