Dr. Gregory Quatrino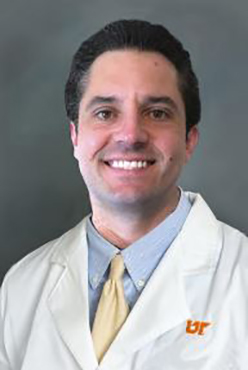 Dr. Gregory Quatrino joins Surgical Association of Mobile in 2018 as our seventh surgeon with a focus on diseases of the colon and rectum. After successful completing his residency as Administrative Chief Resident at University of South Alabama, where he is also on the Burn and Trauma Peer Review Committee, he is currently pursuing a fellowship in Colon & Rectal Surgery. We're excited to welcome him to SAMPA where he offers patients our trademark skill and compassionate care.
Education
Undergraduate: University of Florida
Medical School: Ross University School of Medicine, Summa Cum Laude
Residency: General Surgery at The University of South Alabama in Mobile, Alabama
Fellowship: Colon & Rectal Surgery at University of Tennessee, Chattanooga (Currently Pursuing)
Memberships
Alpha Omega Alpha
American Society of Colon And Rectal Surgeons
American College of Surgeons
Dr. Quatrino was a member of the Florida Gators baseball team and was team captain for the 2005 and 2006 seasons. Dr. Quatrino is also involved in charitable causes including the Christian Medical Ministry of South Alabama where he volunteered in Rwanda. He has also volunteered at University of Florida's Shands Hospital.
Dr. Quatrino accepts new patients for all general surgery concerns as well as weight loss procedures. To make an appointment with Dr. Quatrino call us at (251) 433-2609
Selected Presentations & Publications
Quatrino G, Kampagianni O, Boudreaux CW, Laurini JA, Grimm L. "Lymphoepithelial-Like Carcinoma Involving a Rectal Tonsil". Clin Oncol. 2016; 1:1078
Payne I, Quatrino G, Rider P, Grimm L."Current Approaches to Complete Rectal Prolapse and Internal Intussusception" Shackelford's Surgery of the Alimentary Tract, 8e, In Press
Quatrino G, Tan M, Rostas JW, Gunter JW, Ahmend N, and Simmons JD. "Xanthogranulomatous Cholecystitis". Am Surg. 2015 Nov;81(11):349-50 PMID 26672560
Quatrino G and Freno D. American College of Surgeons Surgical Jeopardy Competition. Chicago, IL. October 2015
Quatrino G, Gillespie M, Simmons J.  Alabama Chapter of the American College of Surgeons. "Evidence of oxidative mitochondrial (mt) DNA damage and MTDNA damage associated molecular patterns (DAMPs) in ventilator induced lung injury".Fairhope, Alabama June 2015