Dr. Dan Lane, FACS, FASMBS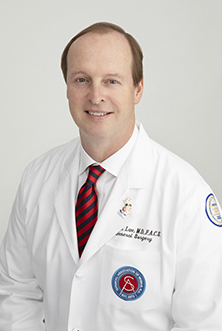 Dr. Dan Lane is a native Mobilian. He serves as the clinical assistant professor of surgery for the College of Medicine at the University of South Alabama.
Dr. Lane is board certified in general surgery
Education
Medical School: University of Alabama Medical School in Birmingham, Alabama,
Residency: General Surgery, University of Mississippi Medical Center in Jackson, Mississippi.
Memberships:
Dr. Lane is a Fellow of the American College of Surgeons and a Fellow of the American Society for Metabolic and Bariatric Surgery
Dr. Lane is married with three children and is a member of Dauphin Way United Methodist Church.
To make an appointment with Dr. Lane call us at (251) 433-2609